AFE Compressed Air Filters & Elements
High Efficiency for clean & technically oil-free compressed air

AIRFILTER ENGINEERING was established more than 20 years ago in Malaysia as a manufacturer of compressed air and gas purification products. The company started in 1993 with production of compressed air filters and elements, selling mainly to the small domestic market. Today Airfilter Engineering is recognised globally as a manufacturer of high quality products which include filters, dryers, elements, separators, adsorbers, condensate drain, gas generators and others. These products meet the industries specific requirements for clean, dry and technically oil free compressed air and gas; conforming to the recommendations of the ISO8573 for air quality and complying with the requirements of the European Pressure Equipment Directives (PED 2014/68/EU) and various other international standards.
AFE Compressed Air Filters & Elements
– G & F Series

– Elements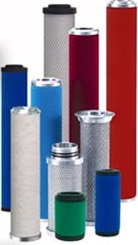 Compatible Replacement Elements Available For:
• Atlas Copco
• Bea Filtri
• Compair
• Ceccato
• Deltech
• Domnick Hunter
• Friulair
• Hankison
• Hiross
• Kaeser
• Omega
• Sullair
• Technolab
• Ultrafilter
• Walker
• Zander
• And others …..