CompAir
Ideal Air Compressor

More than 200 years of compressed air development
CompAir stands for continuous innovation and development of compressors and compressed air equipment. With the dedicated in-house airend manufacturing CompAir is able to specifically influence the performance of the compressor to achieve the highest levels of reliability and efficiency.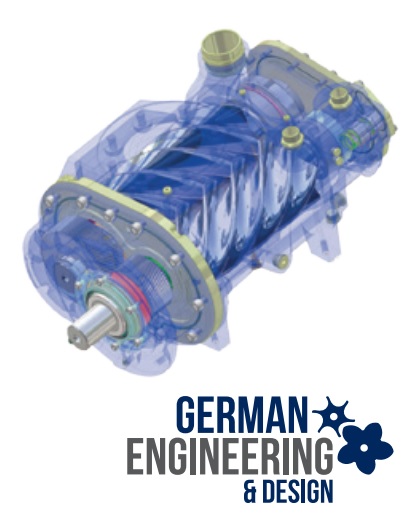 Engineering excellence –
the power to innovate
Advanced compression technologies are at the heart of every CompAir compressor and it is therefore vital that we keep the design and manufacture in-house, utilising the latest CNC machinery and online laser technology to develop our own airends – our compressor's core component.
This engineering excellence ensures that our customers receive consistent, high quality, low cost air.
Oil Lubricated
L Series, Fixed Speed & Regulated Speed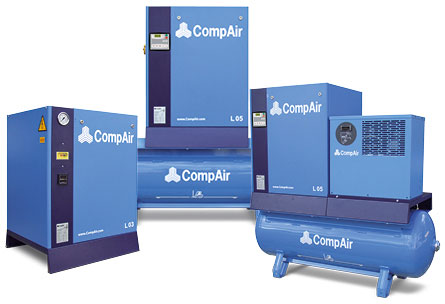 Pressure range
10 bar
Volume flow
0.24 to 0.67 m³/min
Motor power
2.2 to 5.5 kW
Details
Reliable IP55 Class F Insulation electric motor
Combined Air/Oil Cooler
User-friendly design
Easy installation
Low noise levels (L02 and L03 only 61 dB(A))
Available as stand alone, receiver mounted and Airstation (receiver and dryer) version
Energy saving stop/start control ensures that the compressor only runs when there is a demand
for air
Star-Delta or DOL starting for maximum flexibility
Small footprint
Easy servicing
Easy access to all service parts
High quality air
Spin on oil separator
AirBasic2 Compressor Controller
– Status indication
– Air filter change
– Oil filter change
– Separator change
– Oil change
– Regular maintenance advice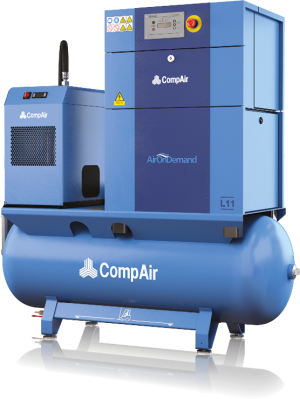 Pressure range
7.5 to 13 bar
Volume flow
0.41 to 3.65 m³/min
Motor power
7.5 to 22 kW
Details
The L07-L22 series have been re-designed with the objective of increased performance, outstanding reliability, exceptional energy efficiency & low operating cost
Fully integrated Airend incorporates with spin on oil filter & oil separator, thermostatic valve, min pressure valve, suction regulator and oil reservoir
Inverter driven regulated speed (L-RS models only)
Combined Air/Oil Cooler
High efficiency electric motor
Automatic belt tensioning system
Low noise levels
Up to 45 deg. C ambient temperature
Small footprint
Star Delta Starter
Easy access to all service parts
High quality air
Spin on oil separator
DELCOS Pro Compressor Controller
– Discharge/line pressure display
– Air/oil temperature display
– Total hours run and unload hours
– Service due indicator
– Enhanced fault log monitor
– Real time clock
– Timer controlled stop/start
– Remote stop start
– Auto restart on power failure
– Second pressure setting
– Status indication
– RS485 – Modbus RTU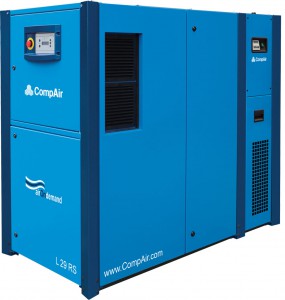 Pressure range
5 to 13 bar
Volume flow
0.92 to 5.52 m³/min
Motor power
22 to 30 kW
Details
Premium efficiency Airend
Inverter driven regulated speed (L-RS models only)
Large surface after cooler and oil cooler
High performance separator element
High efficiency electric motor
Thermostatically controlled motor driven fan
Solid hoses and connection with Victaulic coupling
Compact design small footprint
Low noise levels
Star Delta Starter
Easy access to all service parts
Integrated oil filter and oil regulation valve
Heavy-duty intake filter
Gear or direct drive coupling
DELCOS Pro Compressor Controller
– Discharge/line pressure display
– Air/oil temperature display
– Total hours run and unload hours
– Service due indicator
– Enhanced fault log monitor
– Real time clock
– Timer controlled stop/start
– Remote stop start
– Auto restart on power failure
– Second pressure setting
– Status indication
– RS485 – Modbus RTU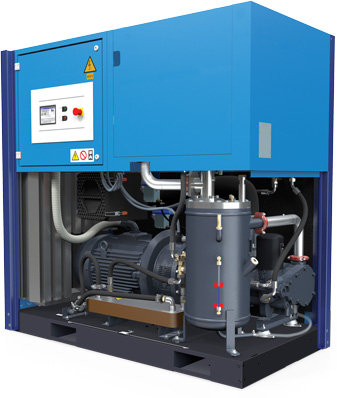 Pressure range
5 to 13 bar
Volume flow
1.33 to 8.67 m³/min
Motor power
30 to 45 kW
Details
Premium efficiency Airend
Inverter driven regulated speed (L-RS models only)
Extra large Airend (E-Models of the L Series) 
Large surface after cooler and oil cooler
High performance separator element
High efficiency electric motor
Thermostatically controlled motor driven fan
Solid hoses and connection with Victaulic coupling
Compact design small footprint
Low noise levels
Star Delta Starter
Easy access to all service parts
Integrated oil filter and oil regulation valve
Heavy-duty intake filter
Gear or direct drive coupling
DELCOS XL Compressor Controller
– Touch screen controller
– Home page instant overview of compressor status
– Real time clock
– Second pressure setting
– Integrated Cooling and Dryer Control
– Fault history log
– Remote control via programmable inputs
– Auto restart after power failure
– Service intervals
– Trend diagrams
– Optional Base Load Sequencing
– SD Card – stores several run characteristics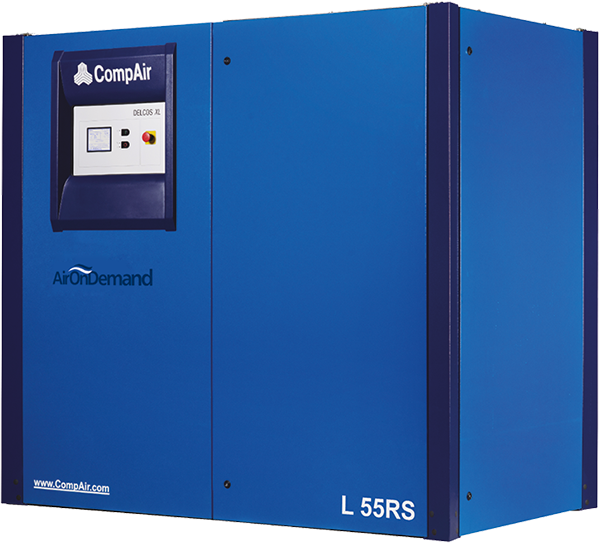 Pressure range
5 to 13 bar
Volume flow
2.20 to 24.65 m³/min
Motor power
55 to 132 kW
Details
Premium efficiency Airend
Inverter driven regulated speed (L-RS models only)
Extra large Airend (L80 & L140 Models) 
Large surface after cooler and oil cooler
High performance separator element
High efficiency electric motor
Thermostatically controlled motor driven fan
Automatic motor lubrication
Solid hoses and connection with Victaulic coupling
Compact design small footprint
Low noise levels
Star Delta Starter
Easy access to all service parts
Integrated oil filter and oil regulation valve
Heavy-duty intake filter
Gear or direct drive coupling
DELCOS XL Compressor Controller
– Touch screen controller
– Home page instant overview of compressor status
– Real time clock
– Second pressure setting
– Integrated Cooling and Dryer Control
– Fault history log
– Remote control via programmable inputs
– Auto restart after power failure
– Service intervals
– Trend diagrams
– Optional Base Load Sequencing
– SD Card – stores several run characteristics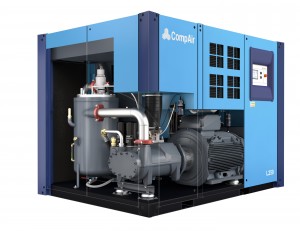 Pressure range
5 to 13 bar
Volume flow
6 to 47 m³/min
Motor power
160 to 250 kW
Details
Premium efficiency Airend
Inverter driven regulated speed (L-RS models only)
Extra large Airend
Large surface after cooler and oil cooler
High performance separator element
High efficiency electric motor
Thermostatically controlled radial fans
Automatic motor lubrication
Solid hoses and connection with Victaulic coupling
Zero loss autodrain
Compact design small footprint
Low noise levels
Easy access to all service parts
Integrated oil filter and oil regulation valve
Heavy-duty intake filter
Gear and direct drive coupling
DELCOS XL Compressor Controller
– Touch screen controller
– Home page instant overview of compressor status
– Real time clock
– Second pressure setting
– Integrated Cooling and Dryer Control
– Fault history log
– Remote control via programmable inputs
– Auto restart after power failure
– Service intervals
– Trend diagrams
– Optional Base Load Sequencing
– SD Card – stores several run characteristics